IRONMAN JAPAN HOKKAIDO 2015
My longest day
Firstly I would like to thank Bruce Thomas and Energy Link Coaching for their training program and guidance for IM Japan.
So what started out as another lonely ironman training journey has been quite a unique experience? Now living in South Korea and working as close to a 9 to 5 job that I will ever come to has thrown up some challengers that I haven't normally had to take into account with time management being one of the hardest and the lovely winter temperatures.
Like most who take up the challenge of Ironman your wind trainer becomes part of you extended family and with the winter temperature as low as I have ever had to train in sitting on the wind trainer was not that bad an option coupled with some great trail running, mountain bike riding and throw in snowboarding as part of the cross training the winter months went by pretty quick.
As spring rolled in and the countryside came alive it was time to dust off the trusty old road bike and start some serious road riding. Now for all those that now Korea and especially Geoje Island (where I live) the only flat ground is the rice paddies and unfortunately you can't ride through them.
The majority of training rides took in somewhere between 2500m/3500m of climbing so I thought I was in a good place as far as the climbing went little did I know.
Running here in Korea has been great plenty of trails and there are numerous 400m running tracks that are open to the public (if you are still one of those that can handle speed sessions). I ran the Cherry blossom half marathon to kick start spring and blow a few cobwebs out, I clocked in at 93 minutes not quite Olympic qualification but enough to prove to myself that I could still push when I had to.
wimming has been the biggest challenge and form of amusement. I am lucky enough to live just down the road from an indoor 25m pool although somewhat busy and the process of getting into the water is a little different to what you would expect back home it is certainly an eye opener especially at 5 in the morning. To supplement my pool session I was hoping to do some open water swimming as there is on surf to speak of so it's like swimming in a lake/bay. Easier said than done my first couple of session went alright as it was not officially their swim season which meant I could swim wherever I liked so I did i.e. in the deep water and out and around the harbour buoys nothing out of the normal. Then swim season started and the life guards and deep water marker buoys came out which meant that you could not go out past the buoys some of which are in about 1m of water so needless to say we were remove from the water on several occasion by the police for breaking Korean regulations (all part of the cultural experience).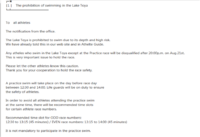 Ironman Japan
With 7 months of training now in the bank I was off to Japan I arrived without any drama booked into my accommodation and the weather was looking good what more could you ask for.
The first day I go through the normal routine unpack the bike went for an easy roll around the lake about 40km nice and flat reminded very much of Ironman NZ with the lake as the backdrop. Registered at 10am then straight into the compulsory English briefing now that all the formalities are out of the why I went straight to the swim start and was in the process of have a relaxing swim to unwind next minute the sirens are going the life guards that have been brought in from over the coast have surrounded me and I have been order out of the water. Apparently you are not allowed to swim in the lake at all (only on race day) which is such a shame because  the water is as clear as bottled water and it was only 80m deep.
After a long discussion with the life guards (they won) I left the water with trail between my legs (all part of the cultural experience).
After dinner that night I was looking at my travel emails as I booked it through Ironman only to see the attached email sitting in my and by all accounts very competitors inbox.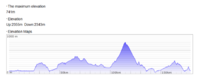 The welcome party was like most plenty of food low key as most are only there for the feed then back to their hotels. Saturday was bike check in and the official practice swim finally we can get in the water. Saturday night was uneventful with a goodnights sleep it was off to TI Sunday morning 5am go through the steps check bike, nutrition, wetsuit and Vaseline off to the swim start.
The swim was managed well with wave starts approximately 3 minutes apart and with crystal clear water it was never going to be anything but smooth I exited the water at 1:06:43 happy with the swim no PB but out of the water in good shape. Through T1 and off on what I/we as in the whole field thought was going to be a solid bike course expect the unexpected. The first 20km was around the lake so relatively flat then came the first little climb up away from the flat roads of the lake area from 25km through to 70km mark seemed like a grind not overly steep just a constant grind then came some relief with a rolling 30km section only to hit 98km and off the bike cycle cross style and carry bike up the cycleway that was under repair (we had been warned about it and it wasn't that far) never less it was quite funny hear the different vocal expressions.

Well then 100km and WTF a 14km climb up mount Niseko (see why they love their skiing up this part of the world) at least the ride down was quick and gave us time to get some fluid and nutrition down. The final 60km was a combination of headwinds and more hills cramping became an issue for the first time racing Ironman with a combination of humid conditions and hills for most part I was able to ride them out and managed to arrive at T2 alive 6:50:37
The run started with a steady climb for the first 4km then we ran into what felt like a brick wall (see run profile below) I didn't see one competitor run this section you would have struggle running it just on a training run. I could see the rest of the day was going to be a combination of highs and lows as I ran through one of the aid station I got talking to another Aussie only to realise he was one of the pros yes anyone can have a bad day. Once we dropped back down to the lakes edge the run course was flattish and well sheltered not that it was that hot (good conditions for Ironman racing).The next 5:00 hrs was a good time to assess my day not every time you toe the line are you going to have that race you have been dreaming of and it gave me a greater appreciation for the people that are out there in the cold and wanting to achieve that one thing they started out for to hear those words over the loud speaker YOU ARE AN IRONMAN.