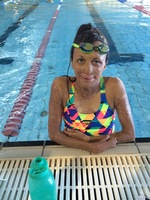 Hi Energy Link Team! We hope training and life is great and that you are managing to keep as warm as possible in this cold weather! Below is our July update - please take 10mins to read and find out what is happening amongst this awesome team of athletes and coaches!
Turia Pitt Inspiration! 
Many of you will know that the incredible Turia is training for Melbourne Ironman 2016. Turia has been awarded NSW Premier's Woman of the Year and juggles her busy career as Motivational Speaker, Humanitarian, Athlete and Interplast Ambassador. We recently quizzed her on how the training progress is going and what she is finding  most rewarding and also challenging about Ironman training! Turia is preparing to race her first Ironman however, we have no doubt when you listen to her thoughts, you will see that she already has this race pinned mentally! Keep up the great training Turia ( :
How is your training for Melbourne Ironman progressing Turia?
So far, so good! I think my worst leg will be the swim. I'm terribly slow! And I get cold really easily so I'm worried about that. Plus I feel like I need more time to do my swim training session - around two hours whereas I can smash my bike training session out in an hour. I'm happy the run leg is last, as I feel most confident with this leg. Often I feel overwhelmed and uncertain that I'll ever be ready, but then I think: all I need to do is my training session every day. And then by March next year, I'll be ready. And when you think about it- journey of success when you break it down is simply a series of infinitesimal steps.
Training for Ironman can be all encompassing, how are you managing the training and your busy life?
I schedule everything in. When I receive my four week block of training from Bruce, I try to schedule each training session for the month. I often have to travel for my work, so I'll try and schedule my recovery week for my main work week. I'm fairly lucky that I'm a pretty organised person and that generally I know what's coming up for me.
It can also be very rewarding and enjoyable, what are you enjoying the most?
I find it hard to stay fit when I'm not training for anything. So I love that training for the Ironman gives me so much motivation. It's hard to get out of your nice warm bed in the dark early morning - having enough motivation and having a strong enough 'why' is key.
Do you think you thrive on a challenge and what challenges are you facing while training for Ironman?
Yes I've always loved challenges.... But I think this will be one of the biggest challenges for me! I have a reduced range of movement in my arms which will affect me in the swim. My hands were pretty badly burnt which will affect me in the bike leg but I've been lucky to find a great bike shop (Spearman Cycles in Wollongong) and work with a great bloke (Ryan Lennox) who has managed to modify a bike for me. My burns haven't affected my running at all, in fact believe it or not I'm actually faster now then I was before my accident!
You are a an inspiration and a source of strength to many people Turia. What projects are you working on and how can we all get behind you and the causes you support?
Thank you! I'm always doing something for Interplast, in fact I leave tomorrow to take on the Inca Trail as a fundraiser for them. Next year we're taking on Kokoda and if anyone wants to donate, there's a link below!
Coach lew Hartley awarded a Kona 2016 spot: 
Congratulations to Coach lew who has been awarded a Kona spot for 2016! Lew has been awarded this place as part of the Ironman Legacy Program, in recognition of his dedication to Ironman and to our sport. These positions stem from the devotion, determination and incredible spirit displayed by Lew and other Ironman athletes. In return for the commitment Lew has made to Ironman, he has been rewarded with the opportunity to race at the Ironman World Championship. We are so proud of Lew and our coaching team!
August: Swim strength / technique focus: Only a few places left!
Technique and strength go hand in hand - Coaches will work on individual technique and teach you how to apply specific strength training to your swim sessions.
Saturday 15th, 22nd, 29th at Macquarie Uni Aquatic Centre. 3 - 4:30pm.
Numbers are limited to 12. Please email Chris to book your place. 
Fees: Pool entry + $15 to Coach.
New team members: 
A very warm welcome to the team Annabel Anriheim, Justin Martin and Mimi Smith! Annabel comes from a competitive rowing background and will be preparing to race Port Mac 70.3 and Noosa triathlon , Justin will be working towards Western Sydney 70.3 and Mimi will be preparing for a great race in Noosa.
Team results:
Gold Coast marathon: Congratulations to Yury Suturin on a great 3:54 marathon time. 
July 19th Racine 70.3 (USA) : A huge congratulations to Snap team member Mike Marcantonio who raced his first 70.3 event last week and had a fantastic and super consistent race to finish in 6:06 43:04/ 2:55 / 2:10. Well done Mike!
Upcoming events for our team:  Good luck to everyone racing soon - keep working hard, the winter training will be over sooner than you know and will be well worth it on race day!
August 2nd Philipines 70.3: Kirsten Gorman
Brisbane Half Marathon: Justin Martin
August 23rd Japan Ironman: Geoff Stutsel
August 30th 70.3 World Championships (Austria) Lauren Bourke, Sarah Collins and Andrea Pember.
August 30th UTMB Europe (100mile run) : Gareth Banks.
September 13th Wisconsin Ironman: Team SNAP - Steve Edwards, Mike Marcantonia, Kristen Gorman, Scott and Karen Tallis.
September 15th Sunshine Coast 70.3: Del Madge, Ash Smith,  Ben Browne, Kelly Atkin, Sarah John's, Matthew Tracey.
Sepetmber 19th ITU Age Group World Championships (Chicago) Murray Robertson.
September 27th ACT Duathlon: Dugald Spenceley
October 10th: World Ironman Championships Kona: Coach Waino and Duncan Tebb.
October 18th ITU World duathlon Championships:  Glen, Jack and Em McPhee, Dugald Spenceley.
October 18th Port Mac 70.3: Scott Farquhar, Ron and Beryl Wilson, Jules Cook, Annabel Arnheim, Andrea Pember, 
October 18th 10km open water swim Fiji: Richard Hayden.
November 1st Noosa Triathlon: Pip Livingstone, Mimi Smith, Annabel Arnheim, Sarah John's
November 29th Western Sydney 70.3: Yury Suturin, Justin Martin
December 12th Taupo 70.3: Andrea Pember and Del Madge.
Hills duathlon Series: Bel Fong, Dugald Spenceley, Karen Tallis.
Jindabyne Training Camp: 
The Energy Link Jindabyne Training camp is a cracker camp and one we know you will enjoy, learn from and come home stronger and fitter from! Please keep the dates in mind for 2016 (Sat 2nd Jan - Sat 9th Jan 2016) and feel free to call or mail if you have any questions. More details can be found on our website at 
http://www.energylink.com.au/training-camps/index.shtml
Energy Link Coaching team blog/ article:  
Winter training tips by Coach Waino: You may have missed this post back in 2013 when I first trained for Hawaii Ironman. Here it is with some new and improved updates. We have all experienced those cold mornings where we struggle to wake up, hit snooze one too many times and put off that session that we had originally planned to […] Read more of this post 
The LESS is more principal for junior and developing athletes by Coach Chris:
 We are often concerned at seeing junior athletes training under inappropriate training loads for short term gain. Coaches, parents and officials; lets teach our children and young adults that they can afford to be patient, that it doesn't all need to happen now and winning at any cost can be disastrous! Read more on our LESS is more principal for young and developing athletes and please pass on to anyone you think may benefit from reading this 
Read more on this article
Happy Training,
Bruce, Chris, Lew and Waino.
Energy Link Coaching
"realise your potential"
Bruce mobile: 0412 090 165
Chris mobile: 0412 438 095
web: 
www.energylink.com.au