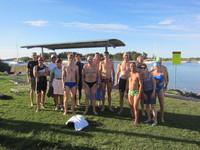 Port Macquarie Ironman:

Just under 20 Energy Link athletes descended upon Port Macquarie to race the Australian Ironman Championships on May the 5th. After a solid training lead up to the Ironman many couldn't wait for race day to come so that they could put their hard work to the test, aim for their goals and enjoy the whole Ironman experience.

Race day served up a slightly windy but otherwise fine day. As we watched the swim start it was obvious that a number of athletes had left their run to the water too late as there was a huge number of competitors running down the ramp into the water after the gun – it was hard to watch. It was also frustrating to see many competitors swim so wide on the course and our guess, while analysing was that those athletes would swim an extra 200m or so! 

Energy Link athletes handled the swim well and got out onto the bike ready to work. The two-lap course was made a little tougher due to the head wind while heading south. It was great to see our team racing smart on the bike allowing them to hit the run in good condition. Most of our athletes improved their overall position in the 2nd half of the run.

It was awesome to be out on the course watching Energy Link and BTC athletes along with all the competitors on the course. Ironman is an emotional event to watch – there are many stories behind each individual journey to get to the start line and also to cross the finish line. Congratulations to the Energy Link Team – there were many personal bests and inspirational finishes.
Owain Mathews      1:00/5:28/3:09  (9:43 & 3rd)
Shane O'neil           57/5:11/3:33   (9:46 & 9th)
Nic Ward                 54:02/5:38/3:16   (9:52 & 3rd Pro)
Eamonn Joyce         1:01/5:27/3:51    (10:27 & 9th)
Nick Black               1:11/5:27/3:51    (10:58)
Lew Hartley             1:05/5:42/4:08   (11:00)
Derek Mulhearn       1:00/6:28/4:08   (11:45)
Lou Harvey              1:15/6:21/4:04   (11:48)
Ron Wilson              1:02/6:15/4:23   (11:51 & 4th)
Wes Marshall           1:15/6:17/4:38    (12:18)
Kath Wilkinson         1:18/6:19/4:35    (12:21)
Graham Coles          1:02/6:23/5:15    (12:51)
Lisa Cash                 1:06/7:20/4:19     (12:56)
Trent Salkavich        1:05/6:30/5:32    (13:19)
Dean Wilson            1:07/7:18/4:44    (13:21)
Beryl Wilson             1:19/6:41/5:42   (13:52 & 15th)
Dan Miller                1:16/6:13/6:34   (14:17)
honel Coles              1:06/6:58/6:08    (14:21)
Chris MCLiver          1:28/7:57/5:07   (14:52)
 Check out the Energy Link team racing pics here: www.energylink.com.au/paparazzi/ironman-australia-2013.shtml