Interested in Training with Energy Link ?
Our vision:

Energy Link strives to be to be a premier performance training and coaching group in Australia. Drawing on years of elite level local and international racing and on 20 years of coaching experience.

Energy Link will achieve this through realistic and proven training methods, dedicated athlete support and individually tailored training programs that will support the highest goals for all ability levels.
Energy Links training philosophy is simple. We believe that to be successful at anything it takes hard work and commitment and to be the best you can be you need to take advantage of your strengths and work hard on your weakness. Training effectively is about training consistently as an individual, training smart and enjoying what you do. 
 Why our coaching and training programs are successful:
Individual training overview or macrocycle including sessions that will match your ability, goals and lifestyle.
Greater improvements in minimal time. 
Eliminate guesswork from your daily, weekly and monthly training.
Time effective training sessions.
Work with an accredited and experienced coach to keep you motivated as well as educate you along the way.
Flexibility of your training program.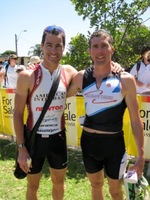 These are our favourite coaching mottos:
Strength comes from consistency
Don't look back unless that is the way you want to go.
Never give in. Never give in. Never give in.
Decide what you want, decide what you are willing to exchange for it, establish your priorities and go to work.
Victory belongs to the most persevering.