Hi Team!
On Saturday you have officially made it through 6 weeks of winter training! So, how is it going and are you taking advantage of what the off-season can do for your training? We hope so! Winter is the perfect time to get back to basics with your training, back off the intensity and focus on your technique. It is also the best time to work on specific strength. If you need coaching support in these areas please let us know as we would love to help you make winter training count.
The down side of winter can be that there are many winter bugs creeping around trying to grab you when you are tired, cold or a bit run down – all of which can happen while training for triathlon! We have attached some information on how you can prevent getting sick and also remind you of how to manage training when you are unwell.
http://www.energylink.com.au/education-articles/training-and-the-immune-system.shtml
There is 7 weeks left of winter training and it is going to fly! Keep up the great training, it will be worth it and before you know it the 2013/14 season will be upon us so you can get out there and be proud of the hard work you have pout in over the cold winter months.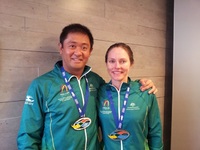 World ITU Long Course Championships:
Mary:    5:40:14 & 4th place.   44:17(9km run)/ 3:10 / 1:35
Joe:       5:55:05                      44.01 (9km run) /3:11/ 1:49
Congratulations to Mary and Joe Falco who have just returned home from racing in Belfort, France. Unfortunately, due to the freezing weather conditions they had to cancel the swim and change the course to a duathlon - 9km run, 87km bike, 21km run.
Mary wrote to Chris before the race "We arrived smoothly and felt good in the sessions today. We drove the bike and were pretty blown away by the challenge of the ascent and the technical descents! Should be fun! Its really freezing and people are layering up with arm warmers, vests, gloves etc. I think just trying to stay warm on the bike will play a big part in it.
It was important that Mary and Joe warmed up extremely well, that they wore enough clothing to be comfortable and that they were smart with run pace for the initial run.
They both had impressive races and Mary finished with 4th place in a very competitive age group - an awesome result Mary!
It is worth checking the below you tube links as it gives you a good idea of the tough conditions Mary and Joe raced so well under. They both remained positive even though the course changed dramatically and continued on with the plan to race hard and smart.
Women's race:            http://www.youtube.com/watch?v=x7jz8Sl4B74

Men's race:                 http://www.youtube.com/watch?v=qSKGc1wuswY
Winter Training with Energy Link:
Swim Technique - Macquarie University Pool: We have a fantastic group of 24 motivated triathletes join us for the first of 6 technique focused swim sessions on Saturday. The aim is to break down and progress through the swim stroke each week and to provide individual feedback throughout. Saturday's session was focused on body position and body rotation in the water. The session involved various drills to get the swimmers thinking about their position in the water and through the water. Some tips for those who couldn't make the sessions are:
To avoid unnecessary drag in the water you need to aim to swim as hydro-dynamically as possible. A streamline position as close to the top of the water as possible is the aim.
·       Activate your core and back muscles to rotate your legs up behind you.
·       When you are kicking you also need to engage your back and use your core to bring your body position up             to the top of the water. Don't just kick your legs behind you – lift them up!
·       Kick from the hips with your legs predominately straight. Engage core and kick from the hips with straight             legs and good ankle flexion – use your feet!
Bike Strength endurance sessions: A reminder that Coaches Bruce, Chris and Lew will be heading out to Bobbin Head to look at the correct technique for riding hills. The session will be a great mix of technique and strength endurance training.
We have a big group joining us from Saturday 17th August in the mornings for a few weeks. Free for Energy Link athletes – let us know if you can make it!
Running – winter hill running/strength/core: Thursday nights at Mosman oval have been popular and training will continue through winter. Athletes have been training hard with a medicine ball or weights and working on leg, upper body and core strength and in between we have been running hills with technique as the focus. 
Join us if you can 6:30pm at Allan Border oval. Bring your mat/towel and medicine ball or hand weights.
Hill running technique: Lets face it, if you are going to be running up and down hills, we might as well make it work for us!
When you are run up hill you are working against gravity and this will recruit different muscles to running on the flat. The major muscles in the legs such as your gluteus, hamstrings, quads and calves all get a solid workout. Running uphill also changes foot strike to more of a mid-forefoot strike and this will result in a greater load being forced through the ankles and calves.
As a coach the main technique fault I see with athletes running up hill is that they bend at the waist. It is true that we need to lean forward as we run up the hill however, leaning from the waist is going to prevent you from generating power you need up the hill. It will not allow the hip flex you need to drive your knee up and it will prevent you from straightening and driving off your back leg as well.
Tips/prompts for good hill running technique:
·       Prompt: Run tall - run up tall firstly with a slight lean forward from the ankles.
·       Prompt: Drive your hips – lift your knees up to generate power and drive off the back leg/foot.
·       Running downhill: remain tall over the top of the hill and down, quicken your stride and take advantage of             the downhill with forward lean. Try to avoid "breaking" or leaning back (unless you really need to slow down)
Energy Link Summer Training Camp – Jindabyne 2014!
Preparations are already on the way for our Jindabyne triathlon training camp. The tentative dates for the camp are: Saturday 28th December 2013 to Saturday 4th January 2014. We are in the process on confirming the accommodation before we lock in these dates.
More information can be found here:  www.energylink.com.au/training-camps/energy-link-camp-details.shtml
TourDeFemme:
Andrea Gardiner sent us details on a charity ride that she is taking part in this September. It looks like an awesome ride and a really worthwhile cause as well
WHAT IS TOUR DES FEMMES?
A group of women who ride to support research into health issues that directly impact on women, their partners and families. We have two purposes – to raise awareness and money for research projects that can improve women's lives and to create a great camaraderie amongst women whilst doing something they are passionate about.
2013 RIDE ROUTE: On September 6th we will head out on a ride – a 3 day Tour covering approximately 320 km with some challenging terrain.  Day 1 takes us from Sydney to Bowral and day 2 & 3 on regional rides in the Southern Highlands. It is a significant challenge for all the riders but nothing compared to the years of difficulties faced by women suffering from the illnesses for which we are raising funds. Through the funds we raise, University of Sydney and the HMRI's research teams will receive much needed financial support for programs that seek to bring positive outcomes to women and their families affected by these not so often spoken about health issues.
OUR BENEFICIARIES: To date we have been supporting University of Sydney Endometriosis research and Hunter Medical Research Institute's post-natal depression research.
 Endometriosis research:  Endometriosis affects 1 out of 10 women of reproductive age. Endometriosis is a not so often talked about issue and therefore frequently goes on - or misdiagnosed only to have a devastating effect on women's physical, mental and emotional health, and often has a broader impact on families. Our aim is to assist ongoing endometriosis research projects in their endeavors to improve doctors' ability to diagnose endometriosis and to find a cure.
Post-natal depression research : Our second beneficiary we are supporting is Hunter Medical Research Institute's post-natal depression research project, "Here's looking at you, kid". This project investigates face processing dysfunction and its relationship with post-natal depression (PND). PND affects 10-15% of postpartum women and is known to significantly impact the physical, emotional, social and cognitive development and wellbeing of the of the child which often leads to later developmental difficulties
To get a feel for the tour:-
For further information email tourdesfemmes@gmail.com or ring Gillian McDonald 0413056766