Busso 70.3 Results:
The 70.3 race at Busso took place a couple of weeks ago. The terrain is flat and the roads that the ride follows are smooth and fast. The run is also dead flat but very picturesque, following the coastline and with views of the Busselton Pier. Energy Link had three athletes competing: Joe Sprange, seeking his first sub 4:30 70.3, Di Bell who enjoyed her first race back on home ground after serving in Afghanistan and Mike Gleeson doing his first 70.3 race. All three had good races and enjoyed the experience of racing on the west coast of Australia.
Joe Sprange:                   4:35:38
Mike Gleeson:                 5:29:10
Di Bell:                            6:10:41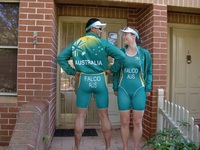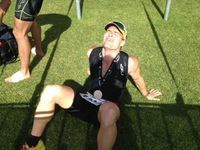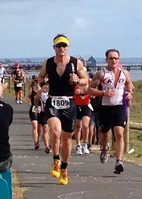 Upcoming events:
We hope our team racing at the ITU long distance Triathlon World Championships this weekend in Belfast and Ironman Cairns on the 5th June - have a great race and enjoy the experience. You have all been training well - you are ready to race and we are looking forward to tracking your progress on race day:
* Honu 70.3: Laurent Giannesini, James Greet and Campbell Vidgen.
* ITU Long Distance Triathlon World Championships 1/6: Mary and Joe Falco.
* Ironman Cairns 9/6: Rowan Beggs-French, Andrew Thomas, Kieron Patterson, Mark Fiore, David Ley.
Athletes preparing for Kona:
Ron Wilson, Beryl Wilson, Vince Lauwerier, Owain Mathews.
After a few weeks r & r, our Kona qualifiers are embarking on their preparation for the World Ironman Triathlon Championships. Both Bruce and Chris have prepared for this event and if there is any advice we would offer it would be:
* Don't make the mistake of believing you need more training for Kona – it is just another Ironman.
* You need to be smart with your training and prepare mentally for the course and the conditions.                   * Don't be intimidated by the race or the athletes racing.
Athletes preparing for ITU World Championships:
The course looks awesome guys! We will need to make sure you are ready for the technical bike course!
Olympic: Robbie Begg, Gillian Akers and Marion Gowing
print: Robbie Begg and Peter Muscat
Sydney Duathlon Series 2013 - Parramatta Park, Parramatta NSW:
Lets get racing! The Sydney Duathlon Series run by the Hills Tri Club offers an excellent opportunity to strengthen your winter training and have some fun.
Event information (including all race distances) can be viewed here:
Race 1 - Sunday 23rd of June 2013 - 8am - Enter Here
Race 2 - Sunday 21st of July 2013 - 8am - Enter Here
Race 3 - Saturday 18th of August 2013 - 8am - Entries not yet open
Race 4 - Sunday 15th of September 2013 - 8am - Entries not yet open