Energy Link team racing 2014 World Championship:
Huge CONGRATULATIONS to our team heading over to Edmonton (Olympic) , China (long course) and 70.3 (Canada) for the World Triathlon Championships later this year!
Olympic: Stephen Durant & Gillian Akers.
Long Course:  Victoria Symes.
70.3 World Championships: Joe Westhuizen.
Winter swim sessions:
We are running a swim technique session every Saturday for 4 weeks during July & August. The session will be open to Energy Link athletes only, as we would like to work as individually as possible with all participants. The session will be run from Macquarie University pool on Saturday at 10:30am for 90mins. Cost will be pool entry and $15 per session to the coach.
If you would like to join in and you have not already confirmed please email Chris ASAP for final details.
Triathletes and Coaches: Lets be great leaders - be BRAVE!
Triathlon is an awesome sport and a healthy lifestyle but like anything that is good for us, if overused it can be just the opposite.
We speak from experience with this subject as Bruce was diagnosed with ventricular tachycardia in 1999 after 16 years of endurance racing and training for triathlon and although there is no certain cause for this it appears that many endurance athletes have similar diagnosis.
The facts don't scare us away from the sport however; it does make us mindful and incredibly responsible as coaches and competitors.
 We need to change the

"more is better"

training culture that

many triathletes have.
We need to change the "more is better" training culture that many triathletes have.
Sure, you may feel invincible racing Ironman, you may be smashing your opponents or you may even be the best junior athlete on the circuit but lets not strive for success at the expense of our own health. We are nothing without good health.
Inform and educate those around you. Be leaders and be BRAVE by showing others that success in triathlon doesn't need to come at a cost to your health or your life and that training should be balanced, effective, realistic and enjoyable.
Train SMART!
Here is a worthwhile article written by By Torbjørn Sindballe
From The Heart: A Former Ironman Pro's Story Of Heart Risks For Athletes.
http://triathlon.competitor.com/2014/02/insidetri/from-the-heart_93083#PfdMZy3x12iGVhsW.99
Ironman OZ - Port Macquarie results: 

Well done to our awesome Australian Ironman team of athletes. 
Owain Matthews 9:12:11 - 54:34/5:51/2:58
Nick Black 9:48:31 - 1:02/5:10/3:29
Tim Berkman 10:20:05 - 1:02/5:29/3:42
Derek Mulhearn 10:25:54 - 50:23/5:48/3:32
Chris Hislop 10:31:51 - 1:04/5:43/3:32
Lew Hartley 10:53:20 - 57:31/5:43/4:07
Mary Falco 10:56:35 - 57:31/6:10/3:43
Joe Falco 11:24:32 - 1:01/5:56/4:18
Mike Gleeson 11:44:17 - 1:05/6:16:4:13
Kath Wilkinson 11:45:18 - 1:07/6:17/4:10
Ryan Norman 11:59:25 - 1:02/6:24/4:23
David Stewart 12:02:41 - 1:09/6:10/4:30
Ron Wilson 12:07:49 - 58:48/6:25/4:34
Nik Pantelic 12:26:18 - 1:05/6:51/4:20
Dean Wilson 12:38:09 - 1:09/6:27/4:54
tu Borwick 12:39:05 - 1:12/6:06/5:03
Andrew Grover 12:56:24 - 1:00/6:42/5:02
Beryl Wilson 13:28:40 - 1:011/7:23/4:52
Owain (Waino) Matthews Ironman blog:  http://owainmatthews.com/2014/05/08/ironman-australia-race-report-2014 and Waino's recent runners life interview http://www.runnerslife.co.uk/contributors/guest-articles/owain-matthews-ironman
Team achievements: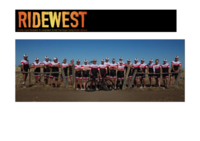 Congratulations to our team for the many personal and professional achievements. What a talented and generous bunch you are!
Ride West - Mark Zaglas:
Well it's the week after the week that was the Charity Cycle Challenge RIDEWEST. Whilst I'm still recovering, it was an amazing event!!  From the CWA baking lamingtons to re-fuel us at the end of a days riding. The local school children coming out to ride the last km into town with us. Or just the stories from people we met along the way reminding us why we were doing this and (most importantly) what each of your donations means for the charity Royal Flying Doctors Service (RFDS).  It was incredibly challenging but rewarding. I'll be back on board for the next one in 2016! 
To put this EPIC journey into perspective.... the Giro d'Italia (Grand Tour of Italy, like the Tour De France) has recently started, the Pro's in this Grand Tour will complete 1,208km in 7 days, we crazy amateurs completed 1,237 in 7 days! 
Some interesting stats about the ride :
•                23 riders, 1,237 km, 7 days, and 5 million pedal revolutions
•                150 kg bananas, 20kg of fruitcake, and 1,000 litres of Gatorade
•                2 tonnes of ice (for ice baths!!)
•                50 massages, and 300 acupuncture needles
•                6kgs of butt cream
•                4 bikes donated to Mitchell & Augathella state schools
•                Where are closing in on the $150k target which is near on $500k since inception in 2010
If you would still like to make a donation please go to the website -  http://ridewest.com.au/ 
Where you can click on the "give now" button and in the "special instructions" sections please enter my name so the team know you are my friend! :) ABC NEWS article link below. http://www.abc.net.au/news/2014-05-09/mates-push-through-the-pain-in-rfds-fundraising-cycle-trek/5441386
North Face 2014 - Gareth Banks: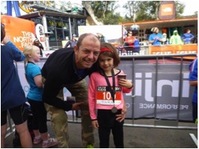 I got through it.  The target was under 13 hours. 
I was feeling fine to start with.  I had a terrible spell at about 55km when I started cramping (maybe due to the heat) and my running mate dropped me.  I couldn't run and lifting my right leg up steps was a challenge.  Fortunately the salt tablets kicked in and I caught him back at 65km.  I then felt pretty good for the final 35km.  I thought I had a sub 13hr time in the bag coming into the last 3kms.  However the last kilometre is a sheer climb up 933 steps (bottom of the valley to the top of the scenic railway if you remember the Blue Mtns).  Demoralising.  I got to the top as my watch clicked over 12hrs 59mins.  I could hear the finish line announcer but I didn't know how far I had left so sprinted (relatively).  With relief the finish line was around the corner and I clocked 12hrs 59mins 19 seconds by my watch (slightly faster officially).  Phew. 
Tara did the 1km race the following day.  See photo.  The future of Australian ultra-distance running?
Bel to complete an Indoor Ironman!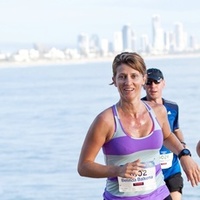 My name is Belinda and two years ago I was training with BTC and coached by Energy Link for my first Ironman event at Port Macquarie. Five weeks out from the race I had a cycling accident and my Ironman dreams were shattered as I had no choice but to pull out of the race. Since my accident I have been too scared to get back on a bike however my dreams of completing an Ironman have still remained. To fulfill my Ironman dream I have decided to simulate an entire Ironman by completing the distances indoors. To do the Indoor Ironman I will swim the 3.8km (76 laps) in the 50m pool at Balmoral, then I will ride the 180km on a Triathlon bike on a Computrainer and then finally run the 42.195km marathon on a treadmill and this will take place at Vision Personal Training Mosman on the 14th September 2014. I want to make a difference to other people whilst doing this so I will be raising money for the John Maclean Foundation. This Foundation raises money to Enable, Inspire and Motivate kids in wheelchairs to chase their dreams. My goal is to raise $10,000. To help me raise money I am holding a Trivia afternoon at The Oaks (see info below) if you would like to attend please email me balkema@bigpond.com or you can find the event on Facebook under Trivia afternoon. TRIVIA BROCHURE If you are unable to make it to the Trivia afternoon but would like to make a donation please go to: https://jmf-challenges.everydayhero.com/au/belinda Thank you, Belinda