Energy Link Coaching September update:
Hi Team! Training has been awesome in this amazing weather – nothing like sunshine to help inspire you for the 2013/14 season! Energy link athletes have been training well over winter and have had some solid results at duathlon's, City to Surf and various run events.
We have been coaching and training with a fantastic and committed group at our winter training sessions -  6 week swim technique squad ant Macquarie Uni and then spent the last 3 weeks working technique and strength while doing hill reps at Brooklyn.
Thank you to everyone who joined us and showed there support – we hope you had the opportunity to learn and that you now benefit from working hard on the all important FORM!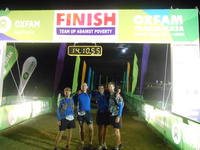 Thank you also to Energy Link Coach Lew Hartley for his support, passion and wisdom.
Let the racing begin!
World Masters Games: Congratulations to Robin Yandle who has recently completed the 50km road race. Unfortunately, Robin had a crash on the bike and was not able to start the triathlon or pool swim events. Robin prepared really well and was in great shape for the events. We look forward to more to come from him and wish him a speedy recovery.
Oxfam Trailwalker: Gareth Banks and his team completed this gruelling event 2 weeks ago and finished as the 2nd team overall in a time of 14hrs and 10min smashing their target time of 16hours – amazing result, well done Gareth and team! They also raised over $20,000 for Oxfam.
ITU World Champs: Gillian Akers, Robbie Begg and Peter Muscat will all be racing in the green and gold this weekend. Gillan is racing the OD event and Robbie and Peter in the sprint event. They have all prepared really well and we are looking forward to the results – have a great World Championship race! Special mention must be made of Marion Gowing who was meant to race the OD event and broke her ankle on a training run a few weeks out – I have no doubt there will be more to come from Marion once she is back on her feet.
Good luck to Joe Sprange who is racing Vegas Long Course this weekend! Have a great time and enjoy your freedom! – Joe and Jazmin are expecting their first little Bub in December and we are very excited for them both.
Upcoming events – who is racing what?
Cairns 70.3 - 8/9 : Vince Lauwerier, Waino Matthews.
Sunshine Coast 70.3 - 15/9: Kevin Mutlow, Neil Culkin.
Sydney Running Festival: Derek Mulhearn and Nico Roth (marathon) Steffi Breidenbach (half mara)
Hawaiian Ironman 13/10: Waino Matthews, Vince Lauwerier, Ron and Beryl Wilson.
Port 70.3 - 20/10: Kevin Mutlow, Stuart Borwick, Derek Mulhearn, Ryan Norman, Martin Lord, Andrew Grover, David Stewart, Caroline Joy, Nick Jones, Nigel Playel, Mary Falco, Joe Falco.
Nepean 27/10: Neil Culkin, Martin Lord, Mark Fiore.
Noosa - 3/11: Martin Lord, Simon Eggleton, Mike Gleeson.
Husky Sprint – 10/11: Sacha Mott , Troy Mott.
Challenge Forster - 23/11: Peter Muscat, Stephen Durant, Neil Culkin, Stuart Borwick, Mike Gleeson, Dan McGuigan, Mark Fiore, Steffi Breidenbach, Coach Lew, Coach Bruce, Coach Chris!
Bussleton Ironman - 8/12: Mary Falco, Joe Falco, Mark Norman, Duncan Tebb, Shannon Codd, Kevin Mutlow.
Callala Sprint: Sacha Mott, Troy Mott.
Canberra 70.3 - 15/12: Neil Culkin, Stuart Borwick, Dan McGuigan, Nigel Playel, Caroline Joy.
Energy Link Coaches top race tips for the season ahead:
Coach Bruce:
Think the race before you race the race (think the race through before you start)
Control the controllable – don't waste energy on stuff you cant control.
Look after your support crew!
Coach Lew:
Trust your training, back yourself and form, form, form!
Think energy, not power! Allow the energy to flow through your whole body not tense up in the quads, hamstrings, shoulders, hands or face. Just let it flow!
Coaching Chris:
Warm up well – the sorter the event the longer the warm up but event Ironman needs a warm up!
Focus on the process, not the outcome (work on your form, relax and stay focused and don't get too caught up with time or place)
Enjoy racing – if you are not enjoying it then find out why.
Racing in remembrance:
Chris and Bruce will be dusting off the race gear to take part in the challenge Forster event as part of a fundraiser for Prostate Cancer Research. As many of you know, Chris's Dad, Peter lost his battle with prostate cancer early this year and we wanted to honour him by racing along with trying to raise much needed money to help those who are affected now and in the future. You can support us by donating to Australian Prostate Cancer Research at our everyday hero page:
https://give.everydayhero.com/au/christina-1
You can also deposit money into the energy link Coaching account with your "name" and "donation" as reference and we will transfer for you.
Thank you!
Energy Link Coaching – Summer Training Camp 2013/14:
We would love to train with your guys in the Snowies this summer. The camp is already half full and registrations only opened up Thursday so please let us know if you are thinking of coming …
Camp details click here