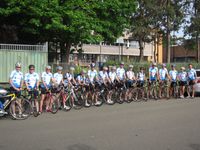 Ride with little - raise so much!
Ride smashed! Fundraising goal smashed! – what else would you expect a bunch of triathlete's and cyclists to do!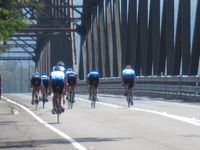 18 riders left Hornsby to take part in the Energy Link Credit Card Ride with pockets filled to the brim, thongs hanging off handle bars and underpants stuffed into biddon holders. It was already hotting up, however, our team were in great spirits and ready to enjoy a weekend of cycling. 
The team headed out through Galston Gorge and onto Berowra for a lift across on the punt over the sparkling Hawkesbury River and then climbed up to our first stop at Pie in the Sky - Blueberry, apple and apricot pies were on the menu. Lucky everyone had full bellies to take on the rolling only challenge down to the Brooklyn. The speed of the downhill roll was soon replaced by a slower climb to Mount White and then some solid riding up to Peats Ridge where a lunch (and more coffee for some) –stop was scheduled.
Did I mention that it was hot? The team did an awesome job climbing hills all day until finally arriving at our accommodation. It didn't take long for everyone to change into swimmers (that were somehow crammed in cycle jersey pockets!) and jump into the pool while the cycling gear received a much-needed soak!
Dinner was pizza washed down with a Corona (or two!!!) and plenty of laughs along with a couple of challenges and trash talk!
After a solid night sleep and breakfast in bed (ok not in bed cause athletes can't sleep in that long) the team hit to road again for another day of cycling and hills and did I mention it was hot!
While the Ferry trip from Patonga across to Palmy was relaxing, the ride over from Umina to Patonga was a little steeper (and longer) than was expected. None-the-less, we disembarked and started the trip back to Hornsby through Church Point and then Bobbin Head.
It was a fantastic weekend – solid riding, beautiful weather, the best company and all for a great cause.
We are really proud of everyone that took on the challenge and gave their support. Thank-you to everyone who participated in this event, donated their time and money and helped us the raise over $7000 for the Prostate Cancer Foundation Australia.  A huge thank-you also to all the family and friends who supported our incredible team.
Keep smiling,
Chris & Bruce
Energy Link Coaching