2013 kicked off with our Summer training camp in Jindabyne where we had the privilege of working along side 30 awesome athletes in the Snowy Mountains. Bruce along with Coach Bern Ward and his super talented wife Nic Ward put the athletes through their paces over the week long camp in some of the hottest conditions we have experienced during the 15years we have been running camps in Jindy. 
The daily sessions consist of swim squad or lake swims, endurance rides or time trials and endurance running and speed work. There is always a skill/technique component to the training camps and athletes also enjoy the benefits of ice baths and recovery sessions.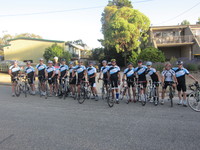 Energy Link athlete and international runner Owain (Waino) Mathews has written an blog about the camp on his "open road to triathlon" website. Click here: http://owainmatthews.wordpress.com/2013/01/18/energy-link-training-camp-jindabyne-2013/
Check out the camp photos here 
Good luck to those racing in Feb and dont forget to send us some pics!
Coast to Coast 8/9th Feb: Rob Woods.
Geelong 70.3 10th Feb: Mary and Joe Falco, 
Husky LC 17th Feb : David Stewart, Chris McLiver, Kath Wilkinson, Lew Hartley, Dean Wilson, Nic Ward,
Owain Matthews, Joe Sprange, Nick Black, Mike Gleeson, Laurent Ginnesini, James Greet, Wes Marshall.
Ironman Preparation Weekend:
Bruce will be running a weekend of training in preparation for Port Macquarie Ironman. The weekend will be co-ordinated in the Sydney area on Saturday 30th and Sunday 31st March 2013. The weekend will consist of race pace simulation for the bike and run and is also used as an excellent opportunity to trial equipment/clothing and nutrition/hydration. The BTC open water swim session Saturday afternoon will also be utilised to prepare for Ironman.
Please email Bruce or Chris if you would like to come coaching@energylink.com.au
BTC Junior Triathlon:
 Sunday 3rd March 2013.Balmoral Triathlon Club will be hosting the inaugural KIDS TRIATHLON. Two waves are planned, divided by age 7 - 11 in the first group and then ages 12 - 17.  Everyone gets to swim in the bay, the littlies won't have to ride up or down the hill, then a nice flat run.  More details and registrations at: http://btckidstriathlon.wordpress.com/
Energy Link Team results:
The Auckland 70.3 race took place on Sunday 20th January under fairly gray skies. The conditions were pretty good for racing, being quite cool. The run course was made extra challenging by the fact that it was a little longer than the advertised 21.1km (by over a kilometre!!). Energy Link athletes Vince Lauwerier, Rowan Beggs-French and Kevin Mutlow headed over for the race and all performed very well. Vince finished 4th in his age group (30-34) with a very solid run, while Rowan and Kevin both raced very consistently for excellent results:
Name                                Country                      Swim                  Bike                  Run                   Overall
Lauwerier, Vincent            France                        00:33:32            02:25:13            01:26:49            04:27:24  - 4th  
Mutlow, Kevin                   South Africa               00:30:17            02:25:03            01:34:23            04:32:25 - 11th 

Beggs-French, Rowan       Australia                    00:29:07            02:29:53            01:42:04            04:42:24 – 13th  
Pictured: Rowan Beggs-French racing in NZ.