Melbourne Ironman   
A few weeks ago I made a flying visit courtesy of Snap to watch Ironman Melbourne. The race is in its' second year and, after some fast times last year there was a lot of interest in the event this year. The course has a swim in Port Phillip Bay at Frankston, a two lap ride on the expressway and one of the few point-to-point runs in Ironman. Race morning dawned a little windy and Port Phillip Bay was not looking particularly friendly with a good wind chop and a significant current. Race organisers decided to delay the start and cut the swim short as a safety precaution – given that the new swim course was essentially out and back resulting in competitors swimming in to each other, I am not convinced that safety was enhanced in the end.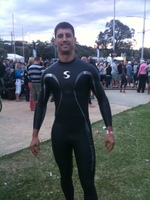 Watching the bike exit was interesting with competitors being forced to walk their bikes out of transition as a result of the congestion – the 1.9km (read 1.4km maybe(?)) swim had not spread the field to any discernable degree. Once on the bike competitors hit the freeway which, despite a strong wind blowing, seemed to allow pretty fast bike times due to the good surface and some protection afforded by the barriers. Energylink had five competitors: Shannon Codd, Neil Culkin, Stephen Edwards, Vince Lauwerier and David Stewart. They were all well placed after the swim and rode sensible bike legs to start the run in good condition.
 The point-to-point run started with around 14km running on the road. The drawback here was dealing with the camber of the road with your left foot always landing lower than your right. Vince raced smart and handled the conditions best, moving from 21st in his age group off the bike to 5th overall with a 3:06 marathon. This was enough to secure him a Hawaii slot in his debut IM. All the others were looking good around the 19km mark. Unfortunately, Shannon's guts decided they had had enough and he slowed significantly in the latter stages of the run. David also struggled getting nutrition in and Neil's ITB rebelled after all the off camber running.
 None-the-less all finished and Steve and David should be congratulated on their efforts given the training scenarios that they had to adopt just to get to the start line! David pulled up well and raced well at Club Championships recently and Steve has already set his sights on other races.
 Melbourne is a great race and, despite a shortened swim, still tested all the athletes. It looks like a fun race to do and the road surfaces are great on the bike. The point-to-point run is a mental challenge but certainly gives you a sense of achievement when you arrive at the finish line.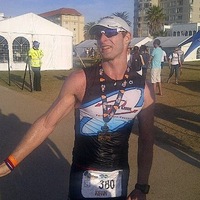 IM South Africa 
Congratulations to Kevin Mutlow who raced Ironman South Africa on Sunday 14th April. It was his 5th race there and he beat his previous best time there by 50minutes, coming in at 9hours 34minutes. It was a very competitive race in his age category with 4th-14th finishing between 9:24 and 9:34! Kevin raced beautifully, keeping it under control all day and putting together a solid, consistent run to cap off a great race.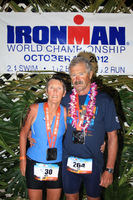 Hawaii Qualifiers to date  
After Ironman NZ in which Ron Wilson finished second and Beryl Wilson won their age categories and Ironman Melbourne in which Vince Lauwerier finished 5th in his age category, Energylink has already confirmed 3 competitors in Hawaii in October. Kevin Mutlow missed out by 10minutes on a slot and we now await Ironman Australia and Ironman Cairns to see if any more of the team can realise their dream. Go Team Energy Link!!
IM Australia Approaching!  
To those racing at Port, and we have a crew of 19 athletes heading up there, good luck! Look after yourself from now until race day. We are in the final stages. You are all probably feeling over the training by now and just want to get on with the race - that is all normal and a good sign. The race will be here soon enough. Spend the time between now and the race thinking things through. Think about everything that could possibly happen on race day and how best to deal with it – have a plan for every eventuality – prepare for the worst and be pleasantly surprised if it doesn't happen on race day. Once you have thought it all through, you need to relax, breath and save your energy. The physical training is pretty much done; it is now a matter of getting to race day and executing your race plan. If you would like to discuss any aspect of your training and final preparation for the race, please don't hesitate to get in touch with us.
 We are looking forward to watching the race and cheering loud – we are planning as usual to meet the crew on Saturday afternoon for a last minute light swim! We will confirm details ..
Winter Training Sessions 
Bruce and Chris will be coaching some sessions through winter – a great opportunity to coach face-to-face and to look into technique and skill. It will also be a great chance to train with others during winter. Please let us know if you can join us and you have not already let us know. See sessions below …
Circuit training - run strength & core maintenance:  Energy Link Coaches will be running circuit-style sessions for a 6 week period in preparation for the hill running over winter.The session will involve bodyweight and core strength as well as some run-strength training. Circuit is a great way to vary your training over winter while maintaining and developing some specific strength.
Dates: Starting Thursday 23rd May and running each Thursday for 6 weeks.
Where: Allan Border Oval – outside circuit.
Time: 6:30 – 7:30pm -ish.
Who: This session will cater for all ability levels.
Cost: $5 paid to the coach.
Bring: 5kg medicine ball (if you are after a challenge!) a towel and drink.
Swim squad: Technique/drills focus: During these sessions we look at swim technique - Coaches will break down the swim stroke and identify and learn various triathlon specific drills that will help improve your swim stroke.
Where: Macquarie University Aquatic Centre.
When: 6 week course: Saturday's starting 6th July to Sat 10th August. 3 week course: Saturdays starting 6th July to Saturday 20th July.
Time: 10am to 11:30am - 90min session.
Cost: $5:00 paid to the pool each week on entry.Elink athletes $60 for 6 weeks/ $30 for 3 weeks - paid in advance.
Strength endurance bike session: Hill riding/ descending technique focus: During these sessions we will look at the correct technique for riding hills and how to make the most of winter strength training on the bike.
Where: Bobbin Head/ Brooklyn.
When: 4 week course: Saturdays mornings starting 17th August to Sat 7th September.
Cost: Elink athletes: free. Non-elink athletes: $10 paid to coach.