It was a great little place for a race not much in the way of accommodation and places that we would eat at but as far as a race venue couldn't complain.
Started out with the usual warmup some opera and K pop the swim course was clean I am pretty sure we had to contend with the tide on the second lap apart from that the swim was good water temperature was about 18 degrees NICE.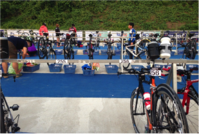 The bike course was closed to traffic which was a surprise and roads were in great condition an undulating 20km loop course only problem was they only had one aid station with bottled water so you had to decant into biddons on the bike and you know how they drive/ride over here.
By time I hit the run I was starting to get some small cramps due to lack of electrolytes on the bike course and due the lack of English speaking officials at the briefing I was left in the dark as to what was available on course all part of racing in another country.