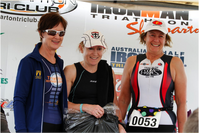 Shepparton Half Ironman Race Report
Or hospital emergency ward to podium in 9 months
Where should this story begin? February this year will do. But get a cuppa tea, because it's a long one for such a short time.

On Valentines Day I was doing my last long ride the week before Huskisson Long Course. An easy 3 hours on the M7 bike path, right? Wrong. South of Elizabeth Drive I came to in a pool of blood, with two strangers and Hyphen talking to the just arrived ambos and the just arrived Jeff. I have no idea how I came off. I don't remember the approach to the corner, the fall, or the next hour. I do know that the first time I rode back there, I was very cautious and yet I approached the corner faster than the day I came off. Go figure. 
Liverpool Hospital casualty (I can't speak too highly of them) checked me out, took lots of lovely pictures of my brain to confirm it existed, my shoulder, chest, etc, etc, and let me go home later in the afternoon. The wash up from round one was a dislocated shoulder, 6 stitches to a gash in my temple, lots of bark off my arm, knees and face, a broken nose and a decent reaction to concussion – enough to say it was a colourful drive home.

Exit Huskisson, at least from the racing angle. One very, very sore and sorry body, but none of those injuries were likely to ruin the entire season and I already had my place for Budapest Worlds so the racing pressure was off. 
Round two, six days later, saw me in Shoalhaven Hospital emergency. This time they did not send me home. They took lots of not so lovely pictures of my back. As I lay in a bit of a morphine daze I could hear the doctors reading the report coming over the wire from Wollongong and thinking to myself "I didn't see anyone come in with that serious an injury, wow, a broken back" and then realising that it was me they were reading about. The kind physio came and fitted me with my Hannibal Lecter style back brace that was to be my friend for the next nine weeks. More morphine, and a road ambo trip to Wollongong Hospital for a neuro check out, physio and occupational therapist consults and home two days later. 
The wash up from round two, a compression fracture of the first lumbar vertebra. Nine weeks of immobilisation. Dark times. The realisation that Budapest Worlds was unlikely. Nearly four months off work. But I am very blessed. The break was just a break, the vertebra did not move sideways nor did it twist. My spinal cord was nicely clear of any damaged bone. I'm not in a wheelchair.
Fast forward to just before Anzac Day. The brace came off for good, yoo hoo. The neurosurgeon allowed me to swim, walk, static bike when I was able, but NO RUNNING for another 4 weeks until the bone had completed its healing. I was the flab queen, I had lost so much muscle everywhere. 
And the fun began. Hydrotherapy for the back, ART for the shoulder which had gone on hold. Day one in the hydro pool was a hoot. I could touch the top of my knees, I could not balance on one leg. An hour of geriatric hydro left me a quivering mess and I slept for the rest of the day. 
But I'm a stubborn old woman, and every day I either walked or went to the pool to reinforce the hydro and start swimming (or at least kick with fins until the shoulder was given the all clear). I sacked hydrotherapy after seven sessions and asked the physios for a land-based Pilates reformer program. I think they laughed at me behind my back, but they let me give it a go. I still do an update with the wonderful Mon or Damian every two weeks. 

Onwards and upwards from that point. Every time I did a session it was an improvement on the last. I expected setbacks but there were none. 
Mothers Day classic 8km walk, 17 days after I was let loose. Onto the windtrainer as soon as I was flexible enough to actually get onto it. Five minutes was all I could cope with at first. Some of you would have seen my pretty pathetic WT/walk brick sessions on Saturdays. I put myself in the big pool on my birthday (just after Mothers Day) SWAM 50 metres AND managed to use the ladder to get out. I first ran baby steps on the 22nd May. I put the bike on the road in Parra Park on the June long weekend. At the beginning of July I asked my coach to put me back on program and started around the end of July. 
Meanwhile, the hard decision had to be made – Budapest or not? And it had to be made before I could run or bike. The sports physician and I were in agreement that I did not want to go to worlds to muck around, and that training for a good race in early September was a really bad idea in terms of rehabilitation. But in the same consultation, the question about a half ironman two months later had a very positive response. There is a huge difference between wanting to do well and just wanting to finish. 
Fast forward again to race week because no-one wants to live through the pain of HIM training. I chose Shepparton because I wanted to do a Half Ironman before they disappear at the end of this year. Gold Coast was too soon, Port and Canberra were too hilly with only a four month training block and no fitness base. Shepp is flat, fast on the bike. The timing was right. The risks were extreme heat and/or wind. 
o the Akers senior made the pilgrimage across the border, arrived in Shepp on Friday night to weather forecasts of heavy rain for Saturday, the risk that the lake would flood and the swim would be cancelled, the race would be a duathlon (hang on, I've never run a half mara, I don't want to do a single step more thank you), followed by heavy rain on Sunday (hang on, that means the risk of punctures goes up tenfold and I want to use my race wheels with tubbies that are hard to change –I don't really want to have to use my training wheels with clinchers). Plus I was feeling super awful. Was it merely pre-race nerves? I think not. I poured every lurgie-fighting vitamin I could find plus migraine drugs into me, but I still had a shocker headache right through to tea time Saturday. 
What to do? The only course of action was to go through the pre-race motions and make the final decision at 6:45 on Sunday morning. So on Saturday I went through the pre-race motions. A light ride in the drizzle with Guy Jones from Canberra, the only real person I knew heading into the race, a 5 minute trot off the bike and a 15 minute lake swim. Then back to the apartment to prep the bike, back to registration to check in and rack the bike. 
Then back to the apartment to prep the athlete and prep the food for tomorrow. Then to dinner with people I had only known in cyber-space and are now real friends with whom I have undertaken a big journey. Somewhere along the way, the headache disappeared, I ate a proper meal and went home to sleep (until 2:30 anyway).
Race morning, 0430 alarm, check the weather. NO RAIN, dry pavements, slightly overcast.
NO HEADACHE. Whew. 
A diversion. Shepparton HIM is run by the local tri club (in a city of about 30,000 people) and this was their 13th race. It is without a doubt the best race I have ever been to for organisation, logistics and atmosphere. 500 community volunteers, fantastic aid stations on the bike and run, closed roads and marshals on every corner, generous sponsorship, great pre-race goodies – a backpack, food and bling –a beautiful race T-shirt and other clothing to buy, a great race expo and A FINISHER'S TOWEL. 
o to the race. I had a race plan which I had shared with only two people. The public declaration was merely to finish and I would have been perfectly content with 7:29:59. The frivolous goal was to beat Tony Abbott's Port HIM time from a fortnight earlier of 6:45. The real race plan was sekrit. 
The swim:
Pros and women were in the first wave, closely followed by the green caps, the blue caps the red caps.....I know, because I got swum over by all of them. The lake at Kialla is only just big enough to fit the 1900m course in and it was quite choppy with all the bodies in action. Penrith's water is clear by comparison, but the water was clean enough and a nice wettie temperature. Out of the water, hit the Garmin, 39:xx, all good. Staggered into transition feeling a little spacey, no running for this chicken, popped on the 3 strap cycling shoes for the first time ever in a race and clumped out to the mount line. 
The bike:
The Gizzuri deliberately has no computer so the ride was done on feel and the occasional check of my heart rate on the Garmin. That's good, because without my reading glasses I can't see a thing inside a metre, so it's all guesswork anyway. This is a FLAT course. I only used three gears for the whole 90km and the only reason to change was whether the road was heading into the wind or not. The road surface was fantastic compared to the Richmond turf farms that had been my proving ground. Apart from still feeling seedy for the first of the three laps, the ride went very nicely. Back into race HQ in just over an hour on the first lap was a bit faster than plan, so I eased back a touch. The breeze was very light, I could stay down on the aero bars pretty much all the time and the second and third laps that I had dreaded being boring just flew. I even had time to enjoy the flat landscape, unfamiliar gum trees and wide expanse of open sky.
omewhere on lap three the nine month point was reached since I fell off the bike. I didn't even note it. 
About 3km from the end my wheels jittered as the wind picked up, but the end was in sight. All good. A very steady T2 during which I put on calf compression (sorry style police), socks, tied my solid laces, re-applied sun screen and remembered to pull out the grip-removable chamois from inside the very comfy new club tri shorts.  Out of transition, strike me, just under 4 hours. Tony Abbott's time is looking good!
The run stagger:
A very pretty three lapper, around the lake, across the river, out through the river gum forest and back. Fantastic aid stations, crowd support (the local paper had printed a list of competitors and race numbers so I kept hearing my name), athlete support, especially from all the Trannies (more cyber space contacts). Lap one was great, I probably took it a bit fast, but it felt the right pace at the time. Lap two was getting a bit tougher, but I was still trotting along and walking every other aid station. Then at 15k the bomb hit. Cramp in left quad. Everywhere else was feeling surprisingly good, but this was a brand new world of pain. Lots of walking, ice whenever I could get it, down the front, back and serious thigh massaging. But I did manage to pull it together and run the last 7-800m on the final approach to the finish line around the lake shore. A 2:24 first ever half marathon.
The finish:
I have rotten finish photos because I was too busy sobbing my heart out to care. The finish clock said 6:19:xx (it was just a bit slow, the real time was 6:20:26) as my name was called in the chute, followed by THIRD PLACE in F55-59. Strike me. More uncontrollable sobbing into the shoulder of the confused volunteer who de-chipped me. Lots of concerned "are you OK" questions and all I could do was nod stupidly. 
Did I mention the finisher's towel? Did I mention the best fruit salad and ice cream? And the massage?
The podium:
More stagger me. And yes, there was a fourth old woman, so it wasn't my normal Bradbury podium. No medal, but a goodie bag of product and gift voucher. And did I mention the finisher's towel?