5th place- Final round of Australian Half Ironman Series, Canberra.
3rd place overall in the 2010 Australian Half Ironman Series!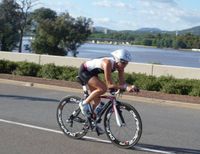 On Sunday I raced the final event of this year's series, which due to flooding in Canberra and the surrounds changed at the last minute from a triathlon into a duathlon.  I have never completed a duathlon before so having a 4km run in place of a 1.9km swim to start, was quite a different experience for me.

I had a great lead in to the event, and was feeling pumped and ready to embrace the different race format, although I knew without a swim that this would favour the non-swimmers.  Lining up to a run start though did seem strange and the pace was on from the word go.  Michelle and Lisa broke away as I kind of expected and the rest of us girls stayed together in a group just behind.
I had a great transition and apart from having a few issues getting into my shoes (lol!) I felt good and ready to ride hard.  My stomach was feeling unsettled before I started the race and I wasn't sure whether it was the run that brought it on but I basically raced from the start of the bike until the end of the race with bad stomach cramps and a stomach shutdown.  I was so uncomfortable (with my stomach feeling like a waterbed), and as I couldn't absorb my nutrition I lacked energy and power.
Although disappointed it was just one of those days where things didn't go my way, but I am glad that I stuck it out and finished.

It's been a long but successful year for me and I have lots of exciting changes to look forward to in 2011, with a new coach and some exciting things happening on the sponsorship front.
Thanks to Dan Roberts from DTR Sports Management for your support and also to my key sponsors- Shimano, Zoot, High 5 Nutrition, Turramurra Cyclery, Newton and Foot Levellers for your continued support over this last year.
Stay safe and see you out on the roads,
Nic Ward