Ironman Australia 2011- Port Macquarie, NSW. Sunday 1st May
3.8km swim/180km bike/42.2km run
Apologies, it's taken me a while to write my race report but since the race I have been thrown into crazy 12 hour days at work, which hasn't given me much time to reflect and conclude an account of my day, but here goes...
It was 11 months ago that I raced my last Ironman so I was a little nervous but excited at the same time about getting out there on Sunday and racing on home turf in front of my family, so many friends, supporters and sponsors. I had a great lead up to the race with a really solid couple of months training. Given the torrential rain for the week leading in I had prepared myself mentally to deal with whatever conditions were going to be thrown at us come race day. I was still pretty nervous race morning as I think no matter how many races you do the anticipation of what lies ahead with an Ironman is always daunting. 6.30am came around quickly and bang we were off! Unfortunately so was the lead kayak which decided to cut across in front of me and a few others ... I was smacked in the face which gave me a terrible fright and the next thing I was swallowed up by the age groupers and lost contact with the girls I was hoping to swim with. I didn't have my greatest swim which was unfortunate as I have been swimming really well so I was disappointed to come out of the water in 4th position and several minutes off the pace, which didn't set me up well for the day ahead.
I had a really fast transition and hit the bike hard and mentally ready for the slog out to Laurieton. The headwind was full on as expected but it was awesome to be riding on my zippy new Trek Speed Concept. It was a relief to hit Laurieton but there was still a tailwind/crosswind to contend with for the ride back to Port. The second lap was tough but I felt much better than the first, and it was nice to have some people to pace off as well as some of my mates racing in the 70.3 out on the course to distract me from the pain.   At about 130km I hit a bad patch and was caught by one of the girls but I got some food into me and soon went back past her ready for the final leg back to Port. The 2 lap bike course with a 12metre draft rule was fantastic and made for much cleaner racing. The new bike course although very bumpy was really challenging with the winds making it even tougher. I noticed a lot of people who obviously rode way too hard on the 1st lap who either dropped away on lap 2 or I rode back past. I remained in 4th place for the bike leg but had a couple of girls hot on my tail heading towards the end of the 180km, so spun the legs out through the last section heading into town in preparation for the marathon ahead.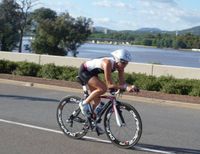 Another swift transition and I was a woman on a mission. My plan was to go out hard and just stick with the pace for as long as possible. I put time into the lead girls and was feeling awesome for most of it. I was really happy to run 3hrs19mins and 50 seconds off Kirsten, who had the fastest run split of the day. I couldn't wait to get to that finish line and loved the pub finish! It was fantastic to have so much amazing crowd support out there to keep me moving strong. I finished where my day began in 4th place, and in a credible time of 9hrs 49mins in tough conditions.  It was a special day for me to have so many wonderful friends and family who had made the trip to Port Macquarie to come and support me, especially my 91 year old grandma who cheered from the sidelines.
There are too many people to thank individually but I want to make a special mention of my wonderful coaches Christina and Bruce Thomas, who have invested so much time in me over the last 6 months. To my gorgeous husband Bern, my family and all my friends and sponsors for your continued support: Shimano, Trek, Nashys Pix, Zoot, High 5 Sports Nutrition, Newton, Oakley, Turramurra Cyclery and DTR Sports Management.
See you out on the roads and stay safe,
Nic x