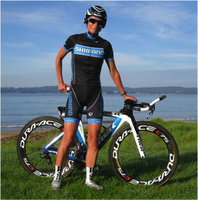 3rd Place- Elite Energy Ultimate Triathlon- Bateman's Bay-Sunday 1st April 2012
After what has felt like a long 3 months of not racing it was exciting to get out there on Sunday and see how things are tracking after 2 solid blocks of ironman training. The Ultimate Triathlon is a new long course event brought about by Emo and his Elite Energy team. With a 2km swim, 120km bike and 20km run, this was the perfect race to do 5 weeks out from Ironman Australia!
I had no idea what an amazing place Bateman's Bay is for triathlon. Whilst it was probably the most challenging bike course in Australia, the town had a really good vibe about it and we were fortunate enough to stay in a beautiful home about 10km out of town, so whilst only being there for the weekend, it felt like I had a little holiday as well.
It was fun to have a mass start for a change and drag around some of the boys that I know- ha!. My swimming is going really well at the moment so I was hoping to get out of the water with a good lead, which I did.
I was 1 minute up but before I knew it the speedy Michelle Wu caught me somewhere through the 15kms of nasty hills heading out of town. My legs were not very fresh and I just didn't have any punch to go with her. Bec Hoscke who is in fantastic form at the moment, caught me at around 30km and I stayed with her until about 70km. The wheels started to fall off for me soon after that. I don't think it helped that I missed picking up water at the aid station and ended up without a drink for 35km!. It was at 80km that Kat Baker came flying through- I was told that she has been focussed on pro cycling so I expected her to make a move on the bike. I started to feel good again around 100km which was definitely my ironman fitness kicking in, but boy did those final 15kms of hills hurt!
I started the run in 4th position and went on a mission to run down Kat. I felt awesome on the run and moved into 3rd place around 8km. I knew I didn't have enough turf to push up the podium any further as both Bec and Shell were running strong, so I followed my game plan which was to back off and save my legs for the big one in 4.5 weeks time!
It felt fantastic to be out racing again after dealing with a few hip issues. Whilst I was pretty fatigued and lacked top end speed, I felt strong and I'm really pleased with where my training is at for Ironman Australia in 4.5 weeks time.
A huge thanks to my wonderful sponsors who ensure that I have the best products and support - Shimano, Trek, Scody, Nashys Pix, High 5 Sports Nutrition, Blue Seventy, Newton, Oakley, Turramurra Cyclery, Foot Levellers and DTR Sports Management.
Take care and see you at Ironman Oz!
Nic x