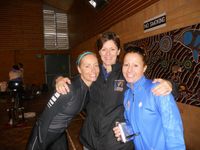 "I used to have a crush on triathlon and now I'm in love with it!" That was how one of the women described her experience from last weekend...
This was the fourth year running of the highly successful all women's camp, and we had 50 wonderful ladies from all over NSW participating in a fun filled, 3 day intensive training camp.  I have been fortunate to have been involved in this event from the beginning and have watched the concept evolve and get better year by year. 
Camp headquarters were at the beautiful coastal town of Forster, once the home of Ironman Australia.   The 3 days involved multiple sessions of swimming (covering both pool and open water skills), bike sessions (including basic skills, bike maintenance, bike trainer and road riding), transitions training, and run sessions (providing running skills and pacing sets).  There was also an aquathlon held which allowed many of the girls to get a first time feel for racing. Along with the physical sessions a special core seminar was provided by a qualified physio, a nutrition seminar was run by Puresports, and a number of Q&A sessions were conducted with professional triathletes and coaches.  
A real highlight this year was the attendance of Australian cycling legend and dual Olympic silver medallist, Michelle Ferris.  Michelle is an amazing women and a true inspiration to all.  Michelle has seen the light and is now training for her first half ironman in Canberra at the end of this year.
Unfortunately we were a little unlucky with the weather this time around but this didn't dampen the spirits of the girls who adapted to many last minute session changes.  As with every year, it was great to talk with so many inspiring women who all had a different story to tell.  There were some who had overcome serious accidents and other major obstacles within their lives, successful business women, mothers and loads of exuberant ladies who just wanted to have some fun!  The camp was headed up by the Triathlon NSW Coaches Mick Maroney and John Hickey who both shared their contagious enthusiasm along with the rest of the coaching team and special guests.   I am so proud of all the women who participated and made the weekend such a fantastic experience, not just for them but for myself and all of the other coaches. 
This is definitely a must do event for all aspiring female triathletes.  You not only get the opportunity to learn all of the basic entry level skills from a team of qualified coaches, but you get to meet many other like minded and passionate women, as well as have a whole lot of fun along the way!
Happy training and stay safe.
Nic  
Nicole Ward
Professional Triathlete
http://www.nicolewardtri.com/